We use farms that are within 75 miles of Cleveland.  Some of our suppliers are a little farther away, such as Snowville Creamery and Shagbark.  For products that cannot be sourced within our radius, we stay in the Ohio area.  Many of our farmers are Amish and very private, but we will try to include most of our farmers and producers on this page.  Here is a list of some of the farms and suppliers that we work with:
Clark Pope joined Fresh Fork as a customer during the inaugural summer season in 2008. His love of regional foods and cooking matched well with the variety of products Fresh Fork offered. The opportunity to transform a revolving weekly bag made Fresh Fork an easy selection. His official collaboration with Fresh Fork was born when Trevor attended a barbecue benefit at Clark's house and tasted his BBQ sauce.  Trevor asked him to tweak that sauce for the Fresh Fork market by shifting to local ingredients. Now Clark produces a variety of specialties especially for Fresh Fork.
Clark's culinary interests and expertise date back over 20 years and range from learning the ropes in a college town restaurant kitchen, managing a franchised pizza shop to working as a national accounts representative for a major food distributor. Following a stint as the production manager for a local special events company, in 2001, he founded Clark Pope Catering, a company specializing in customized catering and production of artisanal products. Catering have stretched from seven course dinners for four at privet homes to full sit down receptions a the Crawford Auto Museum. Menus and pictures can be found at   www.ClarkPopeCatering.com.  He dabbles in charcuterie, wine, bread and cheese production for fun and his bedtime reading is consistently comprised of a variety of cookbooks.  Be sure to like his Facebook page, too!
As a part of Cuyahoga County Board of Developmental Disabilities and its non-profit affiliate SAW, Inc., Cleveland Crops is a working Urban Agricultural entity that exists to provide employment and training for people with disabilities in the areas of farming and selling produce. Our first property, Standard Farm employs people growing a variety of fresh vegetables and fruits.
Rich Eshleman and his family provide us with a lot of our fruits that come in the summer shares.  You will see their peaches, apricots, plums and apples.  They are located in Clyde, Ohio.  From their website:
"Rich Eshleman graduated from Ohio State University with a degree in horticulture and then traveled to Michigan and Washington State to gain more experience. In 1977 Rich and Betty started growing fruit in Clyde at the former Goltz Fruit Farm, with forty acres of fruit. In 1989 we expanded with the addition of Starlite Orchards. Now we are growing six acres of sweet cherries, three acres plums, six acres of apricots, fifty acres peaches, and one hundred fifty acres apples."
Healthy Harvest
Healthy Harvest is the farms that we use in Middlefield, Ohio.  This Amish family is dedicated to producing nutrient rich produce.  One of the brothers who own the farm is our Amish blogger.  He periodically sends us "posts" by snail mail that we type us and post on our blog.  They continue to increase their production and work to help their community become more sustainable.  You may have met them at one of our events.  To read some of the Healthy Harvester's blog posts, click here.
We believe in simple things made by hand from the land and enjoyed together at the family table. We like shaping clay, working with animals, and sharing the gifts of the garden. We think milk and honey are awesome things. We love handcrafted artisan cheeses, dairy goats, homemade jams, bees and old barns. We believe in the preservation of clean water, historic buildings, family history, heritage breeds, and culinary traditions. This gives us healthy land, families, animals, food and communities.
Maggie's Farm is located in the Stockyards neighborhood of Cleveland, OH.
Historically the neighborhood was filled with cattle, slaughterhouses, breweries and home to the workers who were employed there.  The neighborhood is still home to many of the families who lived and worked there for years.  The foreclosure crisis hit the city of Cleveland hard and has left many vacant lots open for redevelopment.
Maggie's Farm is an opportunity to bring back local food, enhance the land and provide employment opportunities to a neighborhood on the rise, rich with resources and a strong sense of community.
Maize Valley Farms is a family operation.  The patriarch is Kay, whom you have met if you have been on any of our farm tours.  His commitment to nutrient dense produce and his passion for traditional farming techniques is obvious when he speaks.  That is why he is usually a stop on the tour.  In addition, the farms run a market and winery and sell value added produce and offer tourist attractions on the farm.
You can thank Kay for many of our products, including peas, sweet corn and melons-just to name a few.
Maurer Farms are professional growers of strawberries, raspberries, peaches, sweet corn, tomatoes, pumpkins and other vegetables for both the retail and wholesale market. Maurer Farm also operates a seasonal retail market at the farm which is located at 2901 Batdorf Road, Wooster.  Maurers have pick your own strawberries and raspberries during their respective seasons in the summer.  They provide us with most of our strawberries and many of our other berries throughout the year.
With the dairy industry becoming a much harder place to make a living for a small farm and not wanting to go bigger, Kevin & Susan (the fifth generation of Morrises on the farm) decided to diversify by building a farmstead creamery. Susan is the master cheese maker in our operation. She hand makes the specialty unpasteurized milk cheeses with great care, then ages them with an ever watchful eye.   
Mike Hiener and his wife Diane operate this 20+ acre farm in NE Ohio.  Located in Dorset, Ohio, we have picked up a variety of items from them over the last couple of years.
Pleasant Valley is owned and operated by the Aden and Wilma Troyer family of Baltic, Ohio.  The processing facility a brand new building located on the family farm.   They strive to process your poultry in the safest, most humane and economical manner.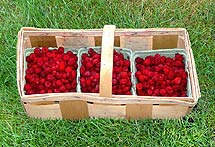 Located nearby on Schaff Road in Brooklyn, we get most of our raspberries from Rosby's.  For years, they have also composted much of our paper and cardboard waste as part of their resource recycling facility.  They also have a you-pick facility for those who want to make their own homemade goods.
Snowville Creamery milk tastes delicious because if comes from grass fed cows and is pasteurized at the lowest possible temperature, preserving the flavor and nutrition. It is not homogenized, allowing the cream to rise to the top.  Snowville milk is from cows not treated with rBST* and no antibiotics are allowed in the milk.
Snowville is outside our 75 mile farm radius, but we think the milk is worth it.  They now supply us with their new yogurt and creme fraiche products.
Shagbark Seed & Mill was launched by the Appalachian Staple Foods Collaborative (ASFC) as its first business toward building a sustainable staple food system model in our region. Shagbark Seed & Mill's key function is in having the necessary processing equipment to turn out  dry beans and grain, seed, and flour for consumers. Shagbark's line of flour, dry beans, and whole grain will lay the foundation for adding cereals, mixes, and breads in the next year.
They produce our black beans, corn crackers, and some other products that we hope to add in the coming year.
Stutzman Farms
Stutzman Farms is the family owned farm that supplies us with granolas, flours, and other grain products.  They have 5 children that range in age form 1-10 years old.  The kids all help put on the farm in the summer when not attending school.  Other family members and neighbors help out in the mill and kitchen.  "We love working with Fresh Fork," says Monroe, "especially when we have time to get the orders ready."
They live on the edge of the family farm, where Monroe's father started farming organically in 1957.  His brothers operate organic dairy farms and one produces cheese.  They supplement their own crops with grains from local area organic farms and process fresh to order for customers.  They have begun working with sprouted grains.  They would love customer feedback, so drop us a line if you would like us to share with them.
Our dairy cattle are fed a balanced diet. It is easy to bring you a wholesome product, we know what goes into it from the start. One taste of our all natural plain yogurt and the goodness of farm life comes through. You won't find any additives or preservatives inside, instead we packed in freshness you can't find anywhere else. Our milk goes directly from the cows to the pasteurizer, never leaving the barn, providing you with the freshest possible yogurt available. We boast a 24 hour cow to consumer turn around.
Located in Wilmot, Ohio, this farm provides us with a host of ingredients.  They hosted us for their Thresher's Day event and were a stop on the 2012 farm tour, where we ate a delicious lunch.  They raise Berkshire hogs, Freedom Ranger chickens, and other animals.  On the produce side, they grow eggplant, sweet potatoes, onions, and potatoes.
They also make value added products.  We have sold their wheat and spelt breads, as well as some of their quick breads.
Weaver's Truck Patch
If you have visited the Shaker Square Farmer's Market, you are likely to have seen the stand for Weaver's Truck Patch.  This Amish family farm provides us with assorted produce throughout the year.  Among the things we have gotten from them are broccoli and cauliflower.
David Yoder Produce
Located near Homerville, Ohio, this Amish farm is very private.  They provide us with a good number of our goods.  Most notable are nearly all of the heirloom tomatoes that we carry.  They also grow sweet potatoes, kohlrabi, and many more.

Ohio's leading producer of fresh artisan cheese including fresh cheddar curds, quark, chevre, mozzarella, and Gretna Grilling, an halloumi-style cheese. In addition, we make aged cheeses from cow's, goat and sheep milk. Blue Jacket Dairy is a family owned and operated business on the forefront of the revival of cheese making in Ohio.
In a world of mass produced everything,It is a rare pleasure to find a product that is prepared with care.  Whether it's a fine meal, estate bottled wine, crafted brewed beer, or micro-roasted coffee.
City Roast was begun in 1993 as a remedy to the often careless quality of the large coffee roasters.
Rising Star Coffee Roasters is a small batch roaster supplying wholesale and retail customers. We carefully select specialty grade coffees from around the world, roast to optimize the flavors and immediately package to insure the maximum freshness. All coffee is shipped or delivered within one day of roasting.
They make our signature Trevor's Blend and Robert's Blend.
Crazy Monkey Baking's signature product, Granola Cookie Crunch®, is made with 100% whole grains and only the finest ingredients. Granola Cookie Crunch® and Granola Cookie Crumble™ are currently offered in four flavors: Dark Chocolate Chip, Peanut Butter Chocolate Chip, White Chocolate Cranberry, and Cranberry Almond.
Yellow House Cheese
 We sampled these cheeses at an event and we knew that we needed to share these items with our customers.  Rich blue veined cow and sheep milk cheeses that you will love.